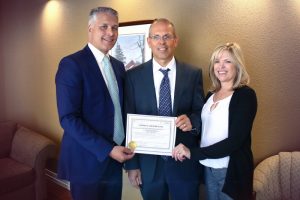 ATLAS VAN LINES ACQUIRES CONNECT LOGISTICS
MISSISSAUGA, Ont. (June 5, 2017) – Leading van line Atlas Canada, a subsidiary of Atlas World Group, Inc., has acquired Connect Logistics. Connect Logistics will continue operating under its current name, leadership team and personnel.
Founded in 1999, Connect Logistics is one of the largest logistics companies in Canada. The company offers it's more than 200 customers specialized product transportation as well as warehousing and distribution services. In recent years, the company has experienced significant growth by forging and maintaining strong partnerships with all parties in the supply chain.
"We are thrilled with the possibilities of this strategic fit," said Doug Van Fraassen, founder of Connect Logistics. "Our customers will have exposure to the significant asset based infrastructure offered by Atlas in both Canada and the US. New service offerings including a large network of Atlas agents and terminals, warehousing, specialized equipment, white glove service and home deliveries will add to Connect Logistics diverse platform of logistical solutions."
"Connect Logistics' business and operations align perfectly with our current logistics structure and will enhance what our team has worked hard to build," said Barry Schellenberg, president of Atlas Canada. "We are excited about the opportunity to provide additional service capabilities for both the Atlas and Connect Logistics' customer base and offer accretive value to our strong network of Atlas agents."
Atlas provides logistics services throughout North America on a truckload or less than truckload basis with the help of the company's nearly 500 agents across Canada and the United States.
For more information on Atlas Canada, visit www.atlasvanlines.ca.
About Atlas Canada
Atlas Canada, a name known for quality, services the highest percentage of Canada's consumer household goods moves and corporate relocations. Atlas Canada has138 agents across every province and territory and a network of 360 agents in the US who provide household moving, logistics, special product transportation services and warehousing. Known for innovation, Atlas was the first van line in Canada to pioneer national Back Check and Quality in Motion programs. For more information on Atlas Canada and its services, visit www.atlasvanlines.ca.
About Atlas World Group
Atlas World Group, an Evansville, Ind.-based company, is comprised of a family of companies that deliver transportation and related services globally through a network of quality agents and select service partners. Nearly 500 Atlas interstate moving agents in the United States and Canada specialize in corporate relocation, household moving services, supply chain solutions, and specialized transportation of high-value items such as electronics, fine art, store fixtures and furniture. For more information, visit www.atlasworldgroupinc.com.